9/28/2005
The Amazing Race Family Edition
Sinong tanga, sinong galit?
Whoever did the UAAP men's basketball finals schedule must have his head checked.

Game 2 would be on a Monday... WTF!!!

9/27/2005
Remember this?
Let's do the Araña jiggy!
Blame it on Xyldrae's blog
I'm not complaining on this one...
You Are 60% Boyish and 40% Girlish

You are pretty evenly split down the middle - a total eunuch.
Okay, kidding about the eunuch part. But you do get along with both sexes.
You reject traditional gender roles. However, you don't actively fight them.
You're just you. You don't try to be what people expect you to be.


-----


This one totally blew me off!




How You Are In Love

You fall in love quickly and easily. And very often.

You give and take equally in relationships.

You tend to get very attached when you're with someone. You want to see your love all the time.

You love your partner unconditionally and don't try to make them change.

You stay in love for a long time, even if you aren't loved back. When you fall, you fall hard.


-----


Right on the money!




Your Personality Profile

You are dependable, popular, and observant.
Deep and thoughtful, you are prone to moodiness.
In fact, your emotions tend to influence everything you do.

You are unique, creative, and expressive.
You don't mind waving your freak flag every once and a while.
And lucky for you, most people find your weird ways charming!


-----


I like blue... to a certain extent.




Your Mood Ring is Light Blue
Emotions mixed
Unsettled
Cool


-----


Rings true except for the dream part. Blame it on my becoming pragmatic as I age.




How You Life Your Life

You seem to be straight forward, but you keep a lot inside.
You tend to avoid confrontation and stay away from sticky situations.
You tend to have one best friend you hang with, as opposed to many aquaintences.
You tend to always dream of things within reach - and you usually get them.


-----


I like this one the best!




You Are 70% Weird

You're so weird, you think you're *totally* normal. Right?
But you wig out even the biggest of circus freaks!
-----
This is the third time I answered this, and it comes out different every time. Don't know why.
My comments in italics
The Keys to Your Heart

You are attracted to those who are unbridled, untrammeled, and free.



Why not?



In love, you feel the most alive when things are straight-forward, and you're told that you're loved.



Beat the monkey, not the bush.



You'd like to your lover to think you are loyal and faithful... that you'll never change.



This is the ideal. But I believe I get to pull this off quite well.



You would be forced to break up with someone who was emotional, moody, and difficult to please.

True.



Your ideal relationship is lasting. You want a relationship that looks to the future... one you can grow with.



True still.



Your risk of cheating is zero. You care about society and morality. You would never break a commitment.



I don't disagree.



You think of marriage as something precious. You'll treasure marriage and treat it as sacred.



Amen.



In this moment, you think of love as something you don't need. You just feel like flirting around and playing right now.



Right on the dot.
9/26/2005
Lasting memories
This is for you, Ateneans...




Joseph Yeo's first dunk in an acutal UAAP games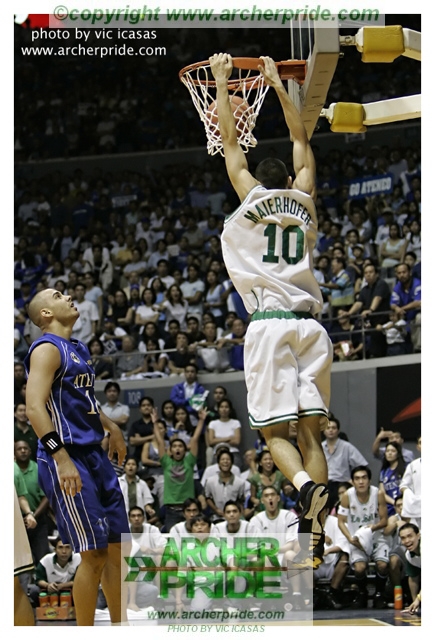 Rico's patented off-a-press-break two-handed slam (and getting Doug Kramer posterized in the process)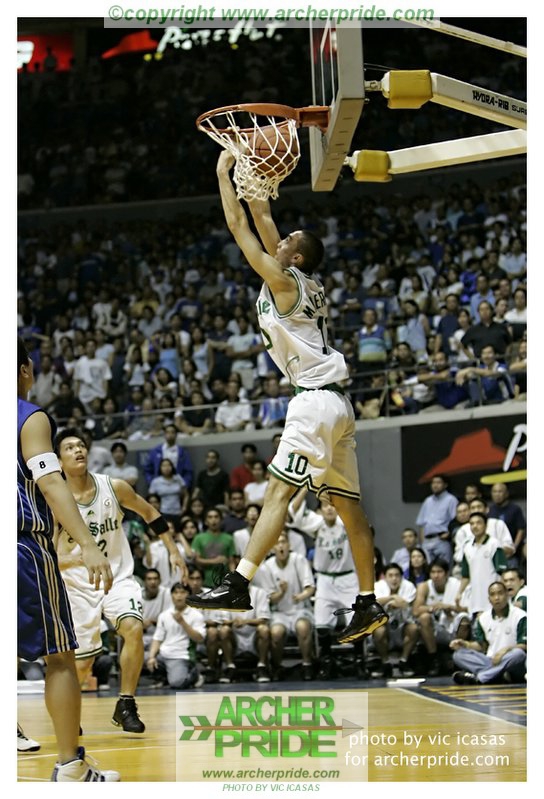 Maierhofer's two-handed reverse dunk coming off an alley-oop pass that brought the house (and the Eagles' spirits as well) down


The good news
This has nothing to do with the Archers transforming the Eagles to
eggs
this season.
This is about my id0l Anastasia Myskina winning her
first tennis title
this year.
9/19/2005
Napaganda pa!
The former three-point overtime win that became a two-point loss is now officially a
12-point romp
.

This just tells the UAAP Board, "Don't mess with the Archers!"
Does my brain have a pattern in the first place?
Your Brain's Pattern

Your mind is a creative hotbed of artistic talent.
You're always making pictures in your mind, especially when you're bored.
You are easily inspired to think colorful, interesting thoughts.
And although it may be hard to express these thoughts, it won't always be.
9/17/2005
I don't want to gloat
But I thought this was just team practice.

Nevertheless, the UAAP basketball season isn't over yet. Not by a long mile. There's the replay tomorrow, a possible playoff between UE and ADMU on Thursday, the Final Four, and the finals.

Anything could still happen.
And Ryan, the next time you dance, make sure it's halftime. Just a friendly tip coming from a fellow Lasallian.
9/12/2005
It's a good time to be a Filipino
Manny Pacquiao proved his critics wrong, Rey "Boom Boom" Bautista proved the hype, and Brian "Hawaiian Punch" Viloria proved that in his heart he is a Filipino.

A hat trick for the Filipinos!

9/10/2005
I almost ate my words
After privately berating the Americans for having a sucky disaster program, I almost ate my words. Good thing my cousin had the presence of mind to leave New Orleans early. Unlike some uh... people.

And to think that we Filipinos encounter this tragedy every year.

9/09/2005
How crazy has the UAAP become?
Check the play-by-play of the UE protest and DLSU appeal
here
.

And the up-to-date reports of the Bonbon Custodio
case
.
9/07/2005
Kuya A, how did this become a meme?
At first glance, this just looks like an editable forwarded blog entry.

THREE NAMES YOU GO BY
1. JP
2. John Paul
3. Mari - don't you ever let me catch you calling me with this name

THREE SCREEN NAMES YOU HAVE HAD
1. nuss
2. Nash Castro
3. my_id0l_card0na

THREE THINGS YOU LIKE ABOUT YOURSELF
1. my energy
2. my passion
3. my laughter

THREE THINGS YOU DON'T LIKE ABOUT YOURSELF
1. my beer gut that wasn't caused by alcohol
2. my being a procrastinator
3. feeling that I haven't done enough in this world

THREE PARTS OF YOUR HERITAGE
1. Tagalog - dad side
2. Bisaya - mom side
3. some Chinese - my mom's grandmother side's ancestor

THREE THINGS THAT SCARE YOU
1. spiders
2. fireworks
3. commitment - not just relationships, but also committing to organizations, etal.

THREE OF YOUR EVERYDAY ESSENTIALS
1. bag
2. pen
3. Orgy-nizer v 2.0

THREE THINGS YOU ARE WEARING RIGHT NOW
1. DLSU-M Pe shirt
2. chocolate brown pants
3. And 1 sneakers

THREE OF YOUR FAVORITE MUSICAL ARTISTS
1. Eraserheads
2.
Oasis

3.
Green Day


THREE OF YOUR FAVORITE SONGS (OF ALL TIME)
outside of the songs done by the three mentioned above
1. 1979 - Smashing Pumpkins
2. Clocks - Coldplay
3. Take on Me - A-ha

NEW THINGS YOU WANT TO TRY IN THE NEXT 12 MONTHS
1. tinker with the Macromedia Dreamweaver I have in my home pc
2. if Jasmine Payo replies, cover the SEA Games
3. pass my thesis

THREE THINGS YOU WANT IN A RELATIONSHIP
1. communication
2. trust
3. lots of laughter... that would be, fun

TWO TRUTHS AND A LIE (in no particular order)
1. I believe that Ateneans are the saviours of this world
2. I believe that Reggie Miller is god
3. I believe that Bret Hart was screwed

THREE THINGS ABOUT THE OPPOSITE SEX THAT APPEAL TO YOU
1. interesting conversations
2. I would like to say height... but it's just a matter of preference. I still go out with people shorter than my mom. She's 5'2", by the way.
3. sense of humor

THREE THINGS YOU JUST CAN'T DO
1. drive
2. do complex math
3. smoke

THREE OF YOUR FAVORITE HOBBIES
1. going through my internet itinerary
2. watch ESPN and Star Sports or any sports channel on cable tv
3. read anything that I get my hands on

THREE THINGS YOU WANT TO DO REALLY BADLY RIGHT NOW
1. save for a flash drive
2. my pending school projects... yeah, right
3. eat shawarma

TWO CAREERS YOU'RE CONSIDERING
how come this one only comes in two?
1. teach Sportswriting to innocent college Communication students
2. be a vocalist of a very successful rock band

THREE PLACES YOU WANT TO GO ON VACATION TO
1. England
2. Australia
3. Davao

THREE CHILDREN'S NAMES
1. Melanie Christine
2. John Paul George
3. Ron Regienald

THREE THINGS YOU WANT TO DO BEFORE YOU DIE
haven't I mentioned this in a previous post?
1. watch the 2012 London Olympics
2. watch a Manchester United game at Old Trafford
3. bungie jump in New Zealand

THREE WAYS I AM STEREOTYPICALLY A GIRL
1. I talk... a lot
2. I have this high-pitched voice that people mistake me as a female
3. I'm physically non-confrontational

THREE WAYS I AM STEREOTYPICALLY A BOY
1. I like sports
2. I like rock music
3. I don't care what I wear

THREE PEOPLE YOU WOULD LIKE TO TAKE THIS QUIZ
1.
Xyldrae

2.
Tiffany

3.
Adrian
I like my new number!
915-214-6-69-3... my favourites. Memorize and save. Hehehe...
9/05/2005
The crazy UAAP
Thanks to kuya
Raul
, I have now updates right in my site. ALthough I still go to ubelt.com to read the articles. Norman Vergara and Sid Ventura are gods.

Surprise, surprise. The DLSU-M Lady Archers, chasing for a Final Four slot, handed defending champion Adamson Lady Falcons' first defeat of the saeason. They're just a game behind ADMU and FEU, so that augurs well.

Then you have an already eliminated UST Tigers defeated a playoff position-hunting ADMU Blue Eagles. To add to the confusion, the UAAP technical committee upheld UE's protest.

As I type, the Red Warriors jumped to second with 10-3 win-loss card. ADMU fell down to third while the Green Archers are hanging on a one game advantage against fifth placer UP.

Wtih the current standings, Ateneo may still fall to fourth provided that the Eagles lose their last two assignments, against the Tams and Archers, while DLSU would go up to third provided they win their games against the two birds.

What does this say? I say this is the ideal scenario since the Pumarens have control of at least one of the semis pairings. While it's up to Montinola to determine who would advance to the finals in the other bracket.

Conspiracy theories beckon!

I'm fine with any situaion provided that...
the Archers are in the finals
and it's not ADMU-DLSU in the finals

Three guesses what finals scenario I am clamoring for.
9/03/2005
The only ABS-CBN show that actually rates...
Pinoy Big Brother, that is.

It has become so big they have three updates on the day, then an up-late before they sign off. This has got to stop.

With the 24-hour BB channel on Sky Cable, it even encourages vouyerism.

Playing The Sims is even better than this trash.

-----

You know how small Big Brother is? Say is a friend of a
friend
of mine.
9/02/2005
More from Kuya A...
Total Number of Films I Own on DVD And Video
I don't have what you call a collection per se. I just have what I get to 'arbor' or what is given to me. Unless if my film projects in school count.

That said, I have at least ten collecting dust above my bed.

The Last Film I Bought
Bayaning Third World - Technically, I didn't buy this one. Mom did. I found it on sale in a tiangge when I was supposed to be looking for socks.

Five Films Which I Watch a Lot / Mean a Lot to Me
The Sound of Music - You are not an Abcede if you don't love this classic. My parents once passed an appointment when we spotted this showing on cable tv. Knowing how much a TSoM fan my mom is, both my brothers brought her VCD's. We once ended having two copies of that.

Eternal Sunshine of the Spotless Mind - The best movie Jim Carrey made that should have earned him an Oscar for acting.

Keka - Better than Gamitan, it should Quark Henares in his directorial best... so far.

Deep Impact - One of the few movies I still end up crying despite seeing it for n times.

My Sassy Girl - You can guess what kind of friends I have.

Others: Hero and Crouching Tiger, Hidden Dragon - One word: Zhang Ziyi.

Soon: Top 20 list of my favourite movies of all time

(Three) People I'm Passing the Baton to
XpRosed, neverneverland, soloflite
Something I got from Kuya A... edited for the fourth time!
Check his
thing
out.

Seven things that scare you:
1. spiders - although not clinically an arachnophobic yet
2. flying cockroaches - had a recent episode of being attacked by 40 in a span of two hours
3. The Archers losing to the Blue Eagles in a UAAP men's basketball game.
4. The DLSU-D sports program scrapped
5. failure
6. regret
7. firecrackers on New Year's Eve

Seven things you like the most:
1. Civilization III
2. shawarma
3. Ed
4. Eraserheads
5. Oasis
6. Coldplay
7. Indiana Pacers

Seven important things in your room:
1. Kompyuter koh!
2. the gigantic inflatable Mentos pack
3. my TLS and HF archives
4. my CD dsicography
5. songhits
6. UAAP memorabilia and other stuff not worth throwing away
7. shirts I won in contests/uniforms I acquired from playing football

Seven random facts about you:
1. I could ingest balut, sisig, and giniling any time of the day. Not good for the heart, I admit.
2. I am a walking contradiction. Discussed in detail in my
Friendster
profile.
3. I kept a sports coverage article I wrote back in grade six depicting a game I played in a handheld football uh... game. Complete with stats and highlights.
4. I have poetry I would try to convert to songs once I am in a full-fledged band.
5. I maybe a rocker, but I listen to electronica, new wave, classical music, and the Spice Girls.
6. I like my RPG played with dice not in the computer.
7. I used to have a Magic: The Gathering deck that got lost along with my jacket in Gokongwei Hall in DLSU-CCS.

Seven things you plan to do before you die:
1. Watch the London Olympics, by hook or by crook.
2. While I'm at it, watch a Manchestere United game in Old Trafford.
3. Fund the DLSU-D sports program.
4. Make a fictional film about Bata Reyes and Django Bustamante, and the rivalry between DLSU and ADMU.
5. Publish a sports magazine.
6. Tour the whole world with my bandmates.
7. Spend a month in my bachelor pad and isolate myself to the world except for cable tv and DSL internet.

Seven things you can do:
1. I could write a mean sports article in 30 minutes flat.
2. Ever since I had these encounter with 40 cockroaches, I found a way to swat flying bugs in midair.
3. I can find a way to watch an ADMU-DLSU men's basketball game in Upper Box A with an Upper Box B ticket.
4. I don't know exactly how to play bass guitar, but I ended up as bassist in our college band.
5. I once played Civ3 for three days straight.
6. I can find a way of getting to my destination even if I'm lost and I've ran out of money.
7. I sing Queen's
Bohemian Rhapsody
in videoke machines.

Seven things you can't do:
1. I can't finish academic-related work on time.
2. I don't know how to whistle.
3. I don't know how to ride a bike.
4. I can't play the piano.
5. I'm a frustrated drawer.
6. I can't do calculus even if my life depended on it.
7. Last in a romantic relationship for at least a year.

Seven things that attract you to the opposite sex:
1. same interests
2. could carry herself well
3. could jam with the boys
4. candid sense of humour
5. free-spirited
6. a good conversationalist
7. has an adventurous streak

Seven celeb crushes (whether local or foreign)
1. Alicia Silverstone
2. Neve Campbell
3. Zhang Ziyi
4. Anastasia Myskina
5. Julia Clarete
6. Jang Nara
7. Anna Laruccea

Seven people you want to see to take this quiz:
1.
soloflite

2.
XpRosed

3. Nasty Chief
4. love,peace,souljah
5. neverneverland
6. forg files
7. ijames
In my playlist...
Ed (ETC)
WWE Raw (Jack TV)
WWE SmackDown! (Jack TV)
Drawn Together (Jack TV)
US Open (WOWOW)
UAAP on Studio 23 (Studio 23)
Pinoy Big Brother (ABS-CBN)
Beat the Geeks (Jack TV)
Hollywood Dream (ABC 5)

Waiting for:
Survivor Guatemala (Studio 23)
The Amazing Race Family Edition (Studio 23)

Conclusion: I should watch more tv.

9/01/2005
UCAA news...
The Patriots men's basketball team are on top with a 3-0 win-loss record! This is their best start in the young league.
What's up with Pacquiao?
The Undertaker, reportedly, would carry the American flag as part of Manny Pacquiao's entourage. The Pac-man would also get to throw the ceremonial pitch in a Major League Baseball game.